The September birthstone derives its name from the Greek word "sapphirus" meaning blue, a word which itself comes from the Hebrew "sappir" which means to shine.
Sapphires have a long and precious history in the ancient Jewish tradition. Ancient Hebrew texts claim that Noah's Ark was illuminated with a giant sapphire used as a window, and the same stone was said to be placed in the Jewish High Priest's breastplate, the original source of the notion of birthstones.
Finally, the Ten Commandments themselves were said to have been engraved on giant sapphire tablets.
Kippah - gold, white pearls and blue sapphire Swarovski crystals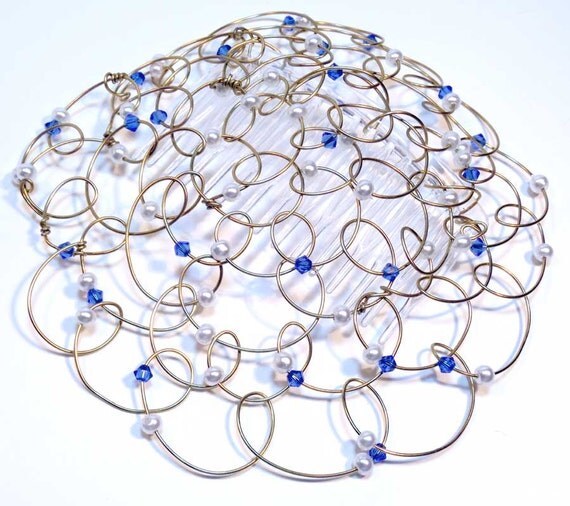 The term sapphire originally applied to lapis lazuli, an extraordinarily rare and prized stone of the ancient world. This blue gem of lazurite came only from a mine in northern Afghanistan, and was given mystical and magical properties in ancient Egypt and medieval Europe. This gem was so rare that in the Middle Ages, European gemologists began referring to blue specimens of corundum, a recently discovered gem at the time, with the ancient name of sapphire.
Kippah - blue wire, blue sapphire glass beads, white pearls
Sapphire also commonly used to commemorate the 5th, 23rd, and 45th wedding anniversaries. A more rate form of sapphire, the star sapphire, is used to mark the very rare and special occasion of a 65th wedding anniversary.
Healing properties:
Effective for health problems relating to lowering fevers and inflammation, hearing problems, cancer and burns.

The Sapphire is also used to enhance the influences of Venus and and banish evil thoughts.
Where are Sapphires found?
Sri Lanka, Thailand, Cambodia, Burma, Kasmir, Australia, Nigeria, Kenya, Tanzania, China and the U.S.